Radically sporty. Revolutionary and independent. With its breathtaking dynamics and spirited agility, the new BMW M240i xDrive Coupé unleashes an unrivalled performance. And above all, it's just pure and simple fun. Whether accelerating, cornering or sprinting along a straight stretch – the rev counter rises to match the pulse and adrenaline levels. At the same time, the progressively focused three-box design emphasises the uncompromisingly sporty ambitions with every aspect, displaying the BMW M240i xDrive Coupé to the best possible effect.

BMW M240i xDrive Coupé:
Fuel consumption in l/100 km (combined): 8.8–8.1
CO2 emissions in g/km (combined): 200–185
Read more
THE PERFORMANCE OF THE BMW M240i xDRIVE COUPÉ.
Power train, suspension and performance.
BMW M240i xDRIVE COUPÉ.
Thrilling driving dynamics and agility with full suitability for everyday use.
M TwinPower Turbo inline 6-cylinder petrol engine with 374 hp

M Sport suspension, M Sport differential and M Sport brakes as standard

Intelligent all-wheel drive BMW xDrive

275 kW (374 hp), 500 Nm, 0–100 km/h in 4.3 sec
BMW M240i xDRIVE COUPÉ – PRODUCT HIGHLIGHTS.
Driving dynamics and design features of the BMW M240i xDrive Coupé.
Exciting performance meets breathtaking looks: With its 374 hp (275 kW) M TwinPower inline 6-cylinder petrol engine and sportily designed engineering features such as the Adaptive M suspension, the M sport differential or the variable sport steering, the BMW M240i xDrive Coupé offers a dynamic driving experience full of power and agility – combined with extremely precise handling. This high sporting aspiration is further enhanced by the M aerodynamics package and the M technology package. Rounding off the athletic appearance are M-specific design elements in Cerium Grey and exclusive highlights in the interior.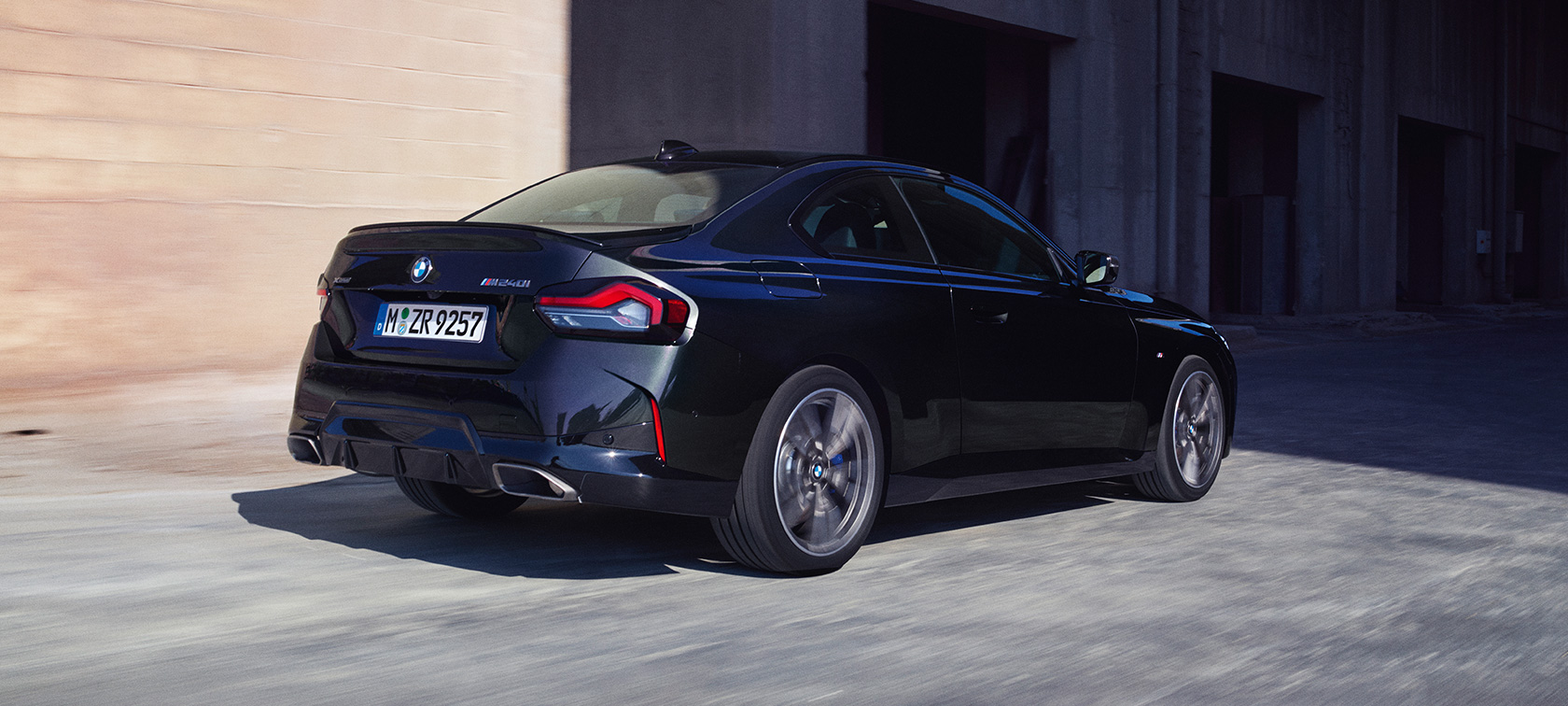 M TwinPower Turbo inline 6-cylinder petrol engine.
A top athlete conveying pure driving pleasure: The M TwinPower Turbo inline 6-cylinder petrol engine features superior power delivery and the striking characteristic M engine sound. With Double-VANOS, Valvetronic, High-Precision Injection and a TwinScroll turbocharger, it provides excellent output.
Adaptive M suspension and variable sport steering.
The Adaptive M suspension can be electrically adjusted at any time to suit the road and driving conditions. You can also adjust the suspension characteristics via the Driving Experience Control to enable your preferred driving style at the time – from comfortable to extremely athletic with markedly agile handling. The variable sport steering with Servotronic creates a direct and agile steering response and ensures that less physical effort is required to turn the wheel. It reacts to the angle of the steering wheel with varying steering ratios. This improves handling when driving more dynamically and reduces the effort needed to steer when parking and turning.
M sport differential.
The M sport differential optimises traction and driving stability when changing lanes or accelerating out of a bend, when taking bends at high speeds or on different road surfaces. Traction is optimised with the help of an electronically operated device that reduces the difference in revolution speed between the rear wheels.
Steptronic Sport transmission.
The 8-speed Steptronic Sport transmission offers incredibly sporty gear changes. Whether automatic or manual using the selector lever or gearshift paddles – for comfortable coasting or incredibly dynamic driving. In SPORT PLUS mode and with the selector lever in the left-hand S/M position, the gear shifts are configured for the maximum performance.
M Sport brake.
The M Sport brake has four-piston fixed calipers at the front and single-piston floating calipers at the rear in dark blue metallic with the M designation and features larger brake discs to ensure an excellent braking performance. Adapted to your BMW's very high dynamic potential, it also allows an exceptional athletic driving style and excellent braking on wet surfaces.
Front design.
The front of the BMW M240i xDrive Coupé is the ultimate in sporting flair and also supremely independent: the powerdome on the bonnet speaks for itself. The expressive kidney grille has a frame in Cerium Grey and novel flaps that open or close according to the demand for air. Distinctive headlights reference legendary BMW Coupé icons such as the BMW 2002 while the M-specific front apron – part of the standard-feature M aerodynamics package – with its clearly contoured and triangular lateral air inlets in Cerium Grey underlines the impressive dynamics of the M Automobile.
Rear design.
The rear of the BMW M240i xDrive Coupé has an extremely athletic appearance. The compact rear lights with positioning at the outer extremes accentuate the broad stance while the standard-feature rear spoiler in body colour improves the driving characteristics thanks to optimised aerodynamics and also sets sporty accents. Also adding to this effect is the M-specific rear apron, which impresses with its striking diffuser in Black high gloss and a distinctive hexagonal inlay. The overall dynamic appearance is rounded off by free-form tailpipes in Cerium Grey.
Side design.
The side view of the BMW M240i xDrive Coupé is that of a radically sporty coupé silhouette. The agile three-box design with extended bonnet, short overhangs and rear-set passenger compartment creates an extremely dynamic impression. At the same time, the vertically positioned kidney grille section, known as the shark nose, lends the lateral design additional dynamics. The M mirror caps in Cerium Grey and the precise shoulder lines extending from the headlights to the rear lights accentuate the vehicle's sporting ambitions.
M Sport seats.
The multi-adjustable M Sport seats with bucket seat character and partly integrated headrest provide excellent lateral support for you and your front passenger. In addition, the backrest width can be individually adjusted. Their special design with black M logo highlights the vehicle's athletic capabilities.
M Leather steering wheel.
The M Leather steering wheel including multifunction buttons, an M badge and an integrated driver-side airbag is featured in three-spoke design. With a steering wheel rim in leather 'Walknappa' Black with black stitching and contoured thumb rests, it provides a direct, athletic steering experience.
M interior trim.
The illuminated M interior trim uniquely showcases the M colours for an interior that is bound to catch anyone's eye. The door trim panels, illuminated in M colours, emphasise the exclusive, sporty character of the vehicle, while the fade effect highlights the dynamics for which the strongest letters in the world are renowned.
BMW M240i xDRIVE COUPÉ – SPORTY IMPRESSIONS.
The design highlights of the BMW M240i xDrive Coupé in the exterior.
DRIVER`S COCKPIT & TECHNOLOGIES.
Operating concept, digital services and driver assistance systems of the BMW M240i xDrive Coupé.
Extremely focused and uncompromisingly well connected: Inside the driver-oriented cockpit of the BMW M240i xDrive Coupé, you be surrounded by state-of-the-art technology. Enjoy the benefits of intelligent driver assistance systems when driving and parking or communicate with your BMW using the BMW Intelligent Personal Assistant.
BMW Live Cockpit Professional.
The BMW Live Cockpit Professional with navigation function includes two high-quality displays consisting of a high-resolution 10.25" Control Display that can be operated by touch and a fully digital 12.3" instrument display. The BMW Operating System 7 can also be operated via the iDrive Touch Controller.
BMW Intelligent Personal Assistant.
Wouldn't it be incredible if your BMW was also your personal vehicle expert? Communicate with your vehicle using the BMW Intelligent Personal Assistant. Say natural commands to operate numerous vehicle functions. It can also explain topics about your vehicle and helps you to get to know your BMW even better.
Driving Assistant.
The safety package Driving Assistant includes front collision warning with braking function, Speed Limit Assist including Speed Limit Display with no-overtaking indicator and pre-warning as well as rear crossing traffic warning. Lane Departure Warning and Lane Change Warning with active return, as well as rear collision warning complete the features.
Parking Assistant Plus.
Parking Assistant Plus makes parking and manoeuvring the vehicle easier. It features among others the Surround View system including Top View, Panorama View, Remote 3D View, as well as a lateral parking aid, the emergency braking function Active Park Distance Control, Parking Assistant with longitudinal and lateral guidance and Reversing Assistant.
TECHNICAL DATA OF THE BMW 2 SERIES COUPÉ M AUTOMOBILE.
BMW M240i xDRIVE COUPÉ.
| | |
| --- | --- |
| Engine power in kW (hp) at 1/min: | 275-285 (374-387)/5,500-6,500 |
| Max. torque in Nm at 1/min: | |
| Acceleration 0–100 km/h in s: | |
| Fuel consumption combined in l/100 km: | |
M PERFORMANCE PARTS AND ORIGINAL BMW ACCESSORIES FOR THE BMW 2 SERIES COUPÉ M AUTOMOBILE.
The BMW M240i xDrive Coupé offers dynamic driving pleasure and a host of sporty equipment. Original BMW Accessories are available for your special needs. We offer a broad selection of individual additions and extras that are perfectly matched to this extraordinary sports car in quality, design and performance, offering you maximum added value – whatever you have in mind.
BMW M Performance Parts
Original BMW Accessories
M Performance kidney grille in carbon fibre.
Show your style: the frame of the M Performance kidney grille is made of premium carbon fibre. For an especially elegant, sporty and individual look.
M Performance rear spoiler in carbon fibre.
The M Performance carbon fibre rear spoiler enhances the car's premium-quality, dynamic appearance and ensures optimised aerodynamics.
M Performance rear diffuser in carbon fibre.
The M Performance rear diffuser in carbon-fibre look creates an even more modern appearance – and enhances the vehicle's sporty look.
20" M Performance forged wheel Y-spoke style 795 M Jet Black matt.
20'' M Performance forged wheels Y-spoke style 795 M in Jet Black matt. Summer complete wheel set with tyre pressure monitor and run-flat tyres.
M Performance steering wheel.
Gripping facts: The steering wheel with Alcantara-lined grip area provides excellent feel and grip for a sportier steering feel.
M Performance backrest cover in Alcantara/carbon fiber dry.
The M Performance seat back made of open-pored carbon fibre and Alcantara give the seats a high-quality racing sport look.
BMW roof box 320 Black/Titan Silver.
Black/titanium silver lockable roof box, accessible from both sides with a capacity of 320 litres, compatible with all BMW roof rack systems.
BMW rear bike rack Pro 2.0.
Light, stable BMW rear bike rack Pro 2.0 for two bikes/e-bikes. Maximum load of 60 kg, can be compactly folded together.
BMW all-weather floor mats front.
The perfectly fitted BMW all-weather floor mats protect the front footwell against moisture and dirt. In black with stainless steel inlay.
BMW luggage compartment mat.
Black, fitted, anti-slip, durable mat for protecting against dirt and moisture.
19" M Performance light alloy wheels Y-spoke style 898 M in Frozen Gunmetal Grey.
19" M Performance light alloy wheels Y-spoke style 898 M in Frozen Gunmetal Grey. Summer complete wheel set with tyre pressure monitor.
BMW Advanced Car Eye 2.
In the event of disturbances, the highly sensitive full-HD camera automatically records the situation in front of and behind the car.
REGISTER NOW FOR EXCLUSIVE OFFERS.
Register now to stay tuned for our latest offer exclusive for the BMW 2 Series Coupé.

Read more
Fuel consumption and CO2 emissions of the BMW M240i xDrive Coupé.
BMW M240i xDrive Coupé:
Fuel consumption in l/100 km (combined): 8.8–8.1
CO2 emissions in g/km (combined): 200–185

Official data on fuel consumption and CO2 emissions were determined in accordance with the mandatory measurement procedure and comply with Regulation (EU) 715/2007 valid at the time of type approval. WLTP values are used for assessing taxes and other vehicle-related charges, calculated and based on the new WLTP measurement procedure according since 01.01.2021. For more information on the WLTP and NEDC measurement procedures, see www.bmw.de/wltp
Read more
​
Fuel consumption and CO2 emissions of the BMW M240i xDrive Coupé.
BMW M240i xDrive Coupé:
Fuel consumption in l/100 km (combined): 8.0
CO2 emissions in g/km (combined): 185

Official data on fuel consumption and CO2 emissions were determined in accordance with the mandatory measurement procedure and comply with Regulation (EU) 715/2007 valid at the time of type approval. WLTP values are used for assessing taxes and other vehicle-related charges, calculated and based on the new WLTP measurement procedure according since 01.01.2021. For more information on the WLTP and NEDC measurement procedures, see www.bmw.de/wltp