Including of /content/bmw/marketHK/bmwhk_com/en_HK/publicPools/teaser-pool/large-teasers/mperformance-2018/jcr:content/stage/stageteaser_b02b failed
ATTRACTION REDEFINED.
The M Performance Parts for the exterior.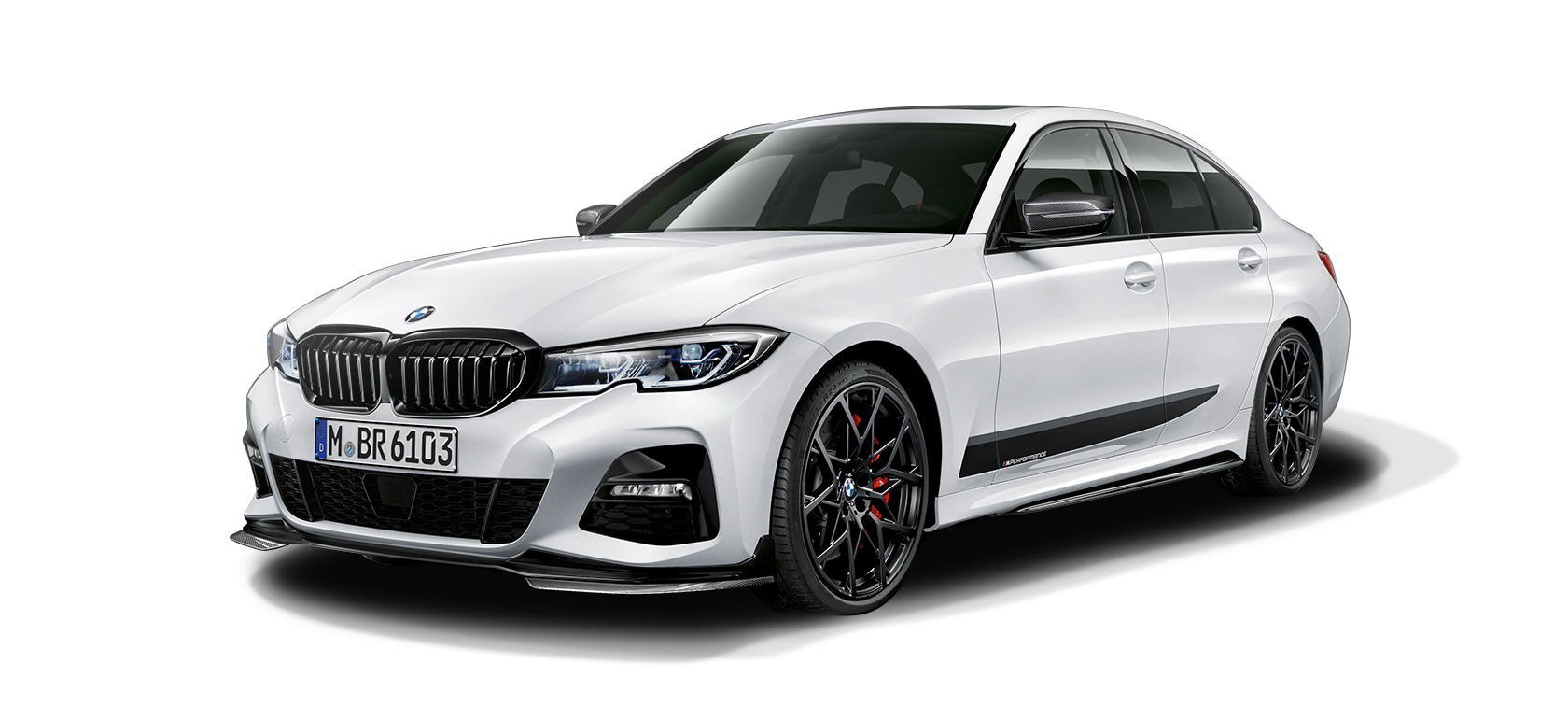 1. M PERFORMANCE FRONT SPLITTER PRO CARBON FIBRE.

Make a strong statement: The 100 percent carbon fibre M Performance front splitter Pro provides optimum aerodynamics and highlights the vehicle's masculine appearance in a highly exclusive manner. A unique motorsport look for anybody who refuses to compromise.

2. M PERFORMANCE KIDNEY GRILLE BLACK HIGH-GLOSS.

Strong character: The kidney slats and surrounds in black high-gloss exude power and dynamism. For a unique appearance that makes a clear impression.

3. 20'' M PERFORMANCE FORGED WHEEL Y-SPOKE STYLE 795 M JET BLACK MATT.

The high-quality 20'' M Performance forged wheels Y-spoke style 795 M are designed in Jet Black matt with the colour M logo and milled M Performance lettering. TPMS summer complete wheel set with run-flat tyres, wheel size 8J x 20 with tyre size 225/35 R20 90Y XL RSC at the front and 8.5J x 20 with tyre size 255/30 R20 92Y XL RSC at the rear.

4. M PERFORMANCE 18'' BRAKE SYSTEM.

For short braking distances – even under high thermal stress: The 18'' M Performance brake system features ventilated lightweight sport brake discs. It is equipped with four-piston aluminium fixed-calliper brakes in front and one-piston aluminium floating-calliper brakes in the rear. In M Performance Red. With the colour M logo.

5. M PERFORMANCE SIDE SKIRT ATTACHMENT IN BLACK HIGH-GLOSS.

Make an impression, make an impact: The M Performance side skirt attachment in black high-gloss makes the car even more sporty. It is perfectly tailored to the vehicle design. For a particularly unique, powerful and dynamic look.

6. M PERFORMANCE CARBON-FIBRE EXTERIOR MIRROR CAPS.

Meticulously hand-made from carbon fibre, the striking M Performance exterior mirror caps underscore the vehicle's high-tech pedigree. Their dynamic design ensures an eye-catching premium look and adds an individual athletic touch.

7. M PERFORMANCE REAR SPOILER CARBON FIBRE.

Even more impressive: The M Performance carbon fibre rear spoiler emphasises the premium-quality, dynamic appearance of the car. The high-tech material carbon fibre makes it extremely lightweight, and at the same time very sturdy. The rear spoiler optimises aerodynamics and enables even more athletic driving characteristics.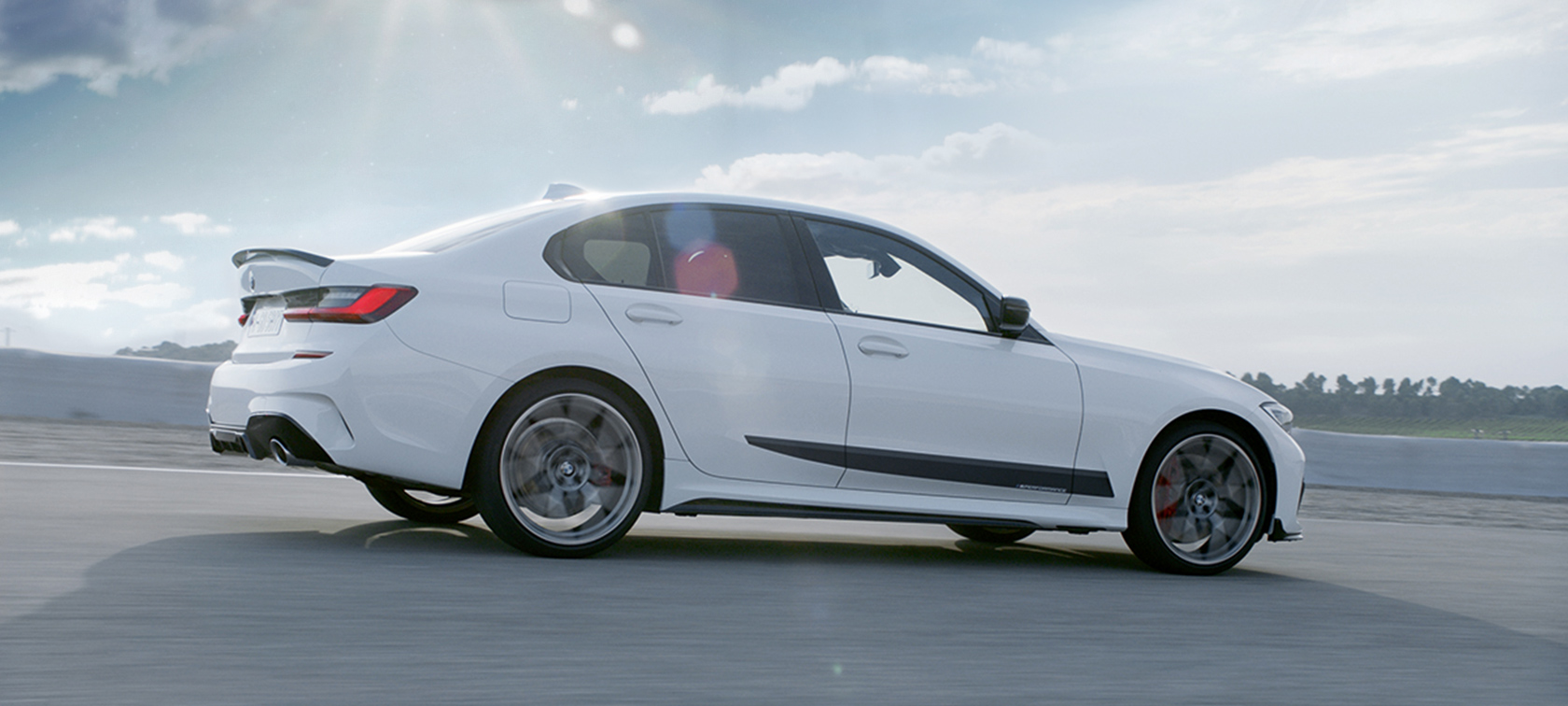 SHOW STRENGTH.
With BMW M Performance parts you top up your BMW individually and turn into a really unique piece of work. For the aerodynamics, the suspension or in the cockpit: everywhere on the car, the BMW M Performance Parts deliver not only simple upgrades, but the crucial plus in motorsport feeling.

Read more
"The M Performance Parts give my BMW an excellent athletic edge."

Augusto Farfus, BMW Factory Driver
PERFORMANCE COMES FROM PERFECTION.
The highlights in exterior, interior and accessories.
Motorsport in every detail: BMW M Performance Parts offers an exclusive racing feeling for the exterior and interior, as well as a range of accessory highlights. Uncompromisingly designed with the focus on dynamics, the products emphasise the sporty character of each BMW individually and demonstrates powerful uniqueness - ready to turn the road into a race track.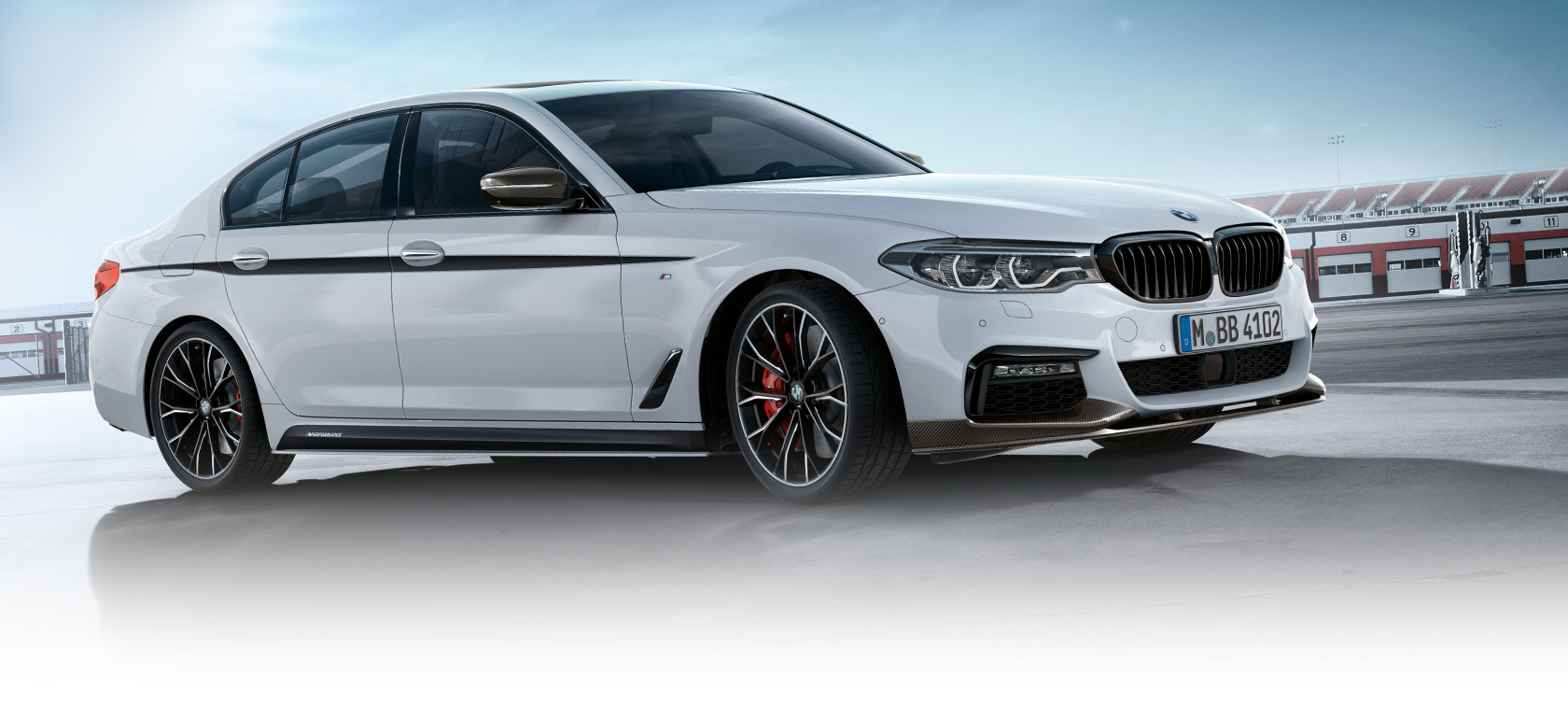 Exterior
Interior
Accessories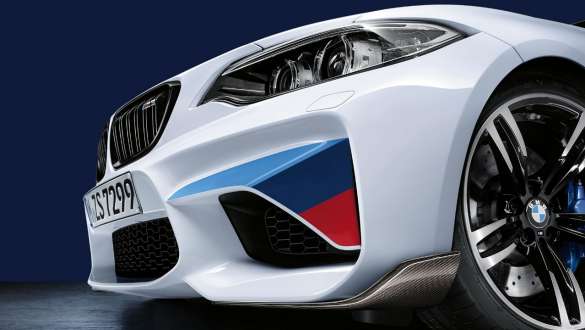 BMW M Performance front splitters, carbon fibre.
Design that inspires. The 100 percent carbon fibre front splitters distinctively emphasise the dynamic, exclusive appearance of the car. Hand-crafted, uncompromising quality and aerodynamically optimized for your BMW.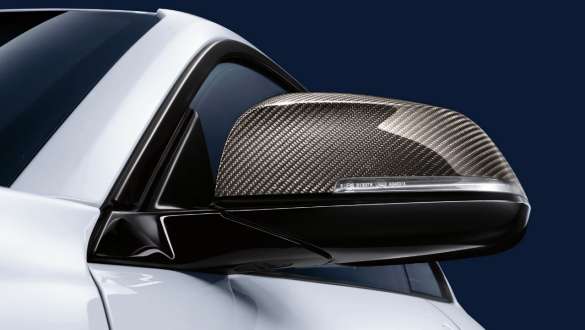 BMW M Performance exterior mirror caps, carbon fibre.
Set the right tone with state-of-the-art construction. The exterior mirror caps are made of 100 percent carbon fibre and are painstakingly hand-manufactured. Their dynamic, premium design immediately exclaims: Individuality has the right of way.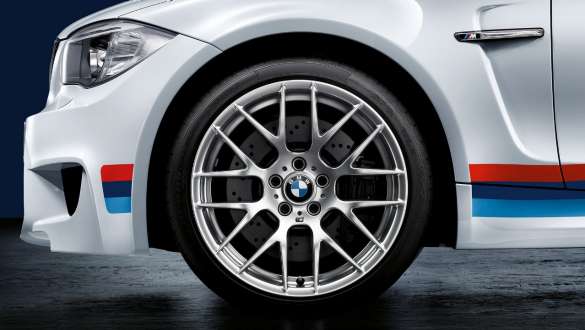 19" BMW M Performance Double-spoke 405 M.
Forged light alloy wheels in bicolour orbit grey, burnished on the visible sides and featuring the four-colour BMW M logo.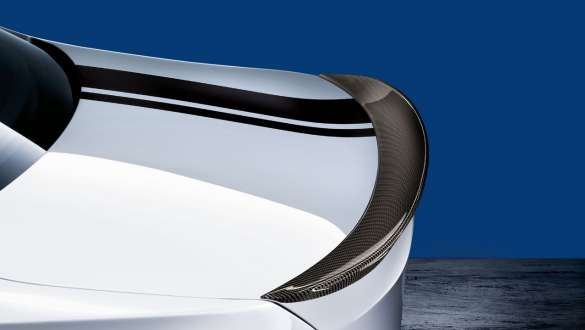 BMW M Performance rear spoiler, carbon fibre.
Even more impressive: The carbon fibre rear spoiler emphasises the premium-quality, dynamic appearance of the car. Together with other BMW M Performance aerodynamic components, it ensures optimised aerodynamics and even more athletic driving characteristics.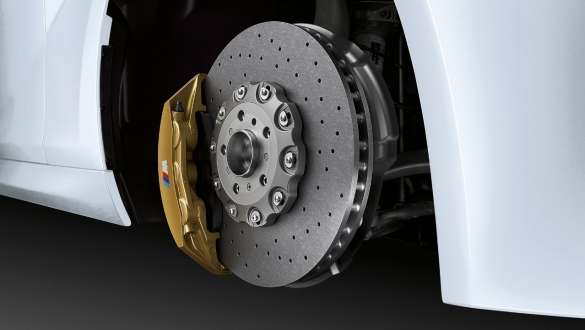 BMW M Performance brake system.
Optimum brake performance and visual differentiation: In conjunction with the perforated and grooved brake discs, the aluminium caliper ensures excellent control and brake performance – even in wet conditions.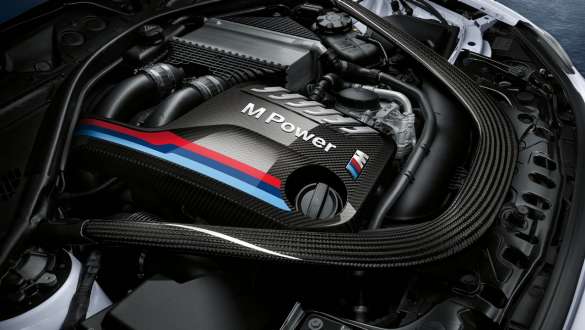 BMW M Performance engine cover, carbon fibre.
The M Performance engine cover gives your BMW an individual, Motorsport and high quality look. Painstakingly constructed by hand, the cover is made of high quality.
BMW M Performance Alcantara steering wheel II with carbon fibre trim and race display.
For a hands-on motorsport experience: The steering wheel rim is upholstered in Alcantara leather and provides optimal grip while the race display and gearshift indicator create a genuine motorsport feel.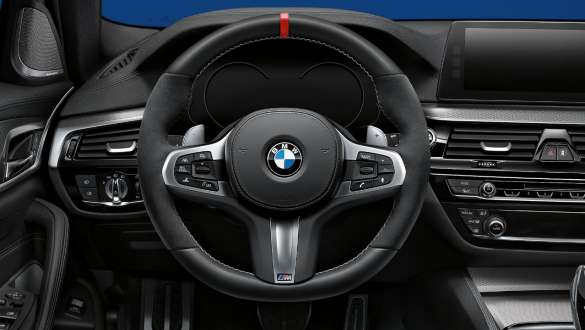 BMW M Performance steering wheel.
Gripping facts: Thanks to its Alcantara-lined grip area the BMW M Performance steering wheel provides excellent feel and grip - for a more direct and responsive steering feel. Its distinctive design and centre band made of red leather underscore its motorsport style.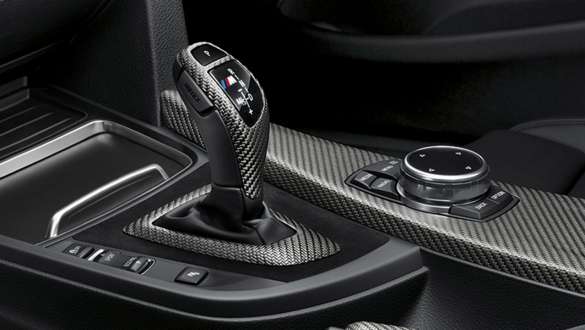 BMW M Performance centre console gear lever trim, Alcantara and carbon fibre.
Motorsport takes centre stage. The BMW M Performance centre console trim features an impressive combination of Alcantara and carbon fibre. The structure of the open-pored carbon fibre is pleasant to the touch. The premium quality Alcantara heightens the exclusive racing feeling.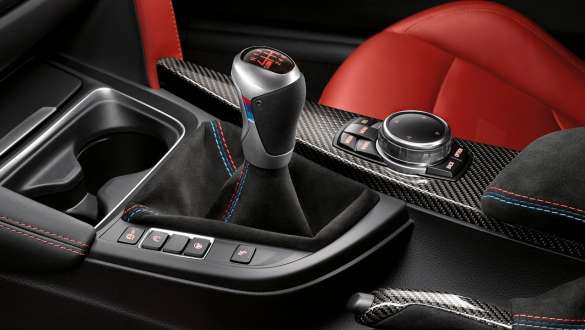 BMW M Performance carbon-fibre interior kit with Alcantara.
The ergonomic gearshift knob Pro with illuminated shift diagram, sporty open-pore carbon fibre and Alcantara leather handbrake are all part of the BMW M Performance interior kit and make the centre console a real eye catcher. For an exclusive motorsport ambience.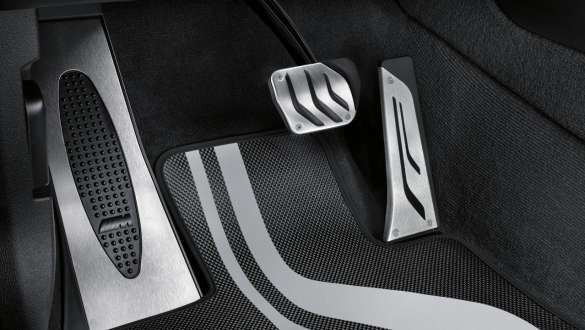 BMW M Performance pedal covers, stainless steel.
Details that make the difference: With their minimalist look and the asymmetrical design of their rubber treads, the solid stainless-steel pedal covers give even the footwell a distinctively premium and dynamic character. The perfect complement to other M Performance products.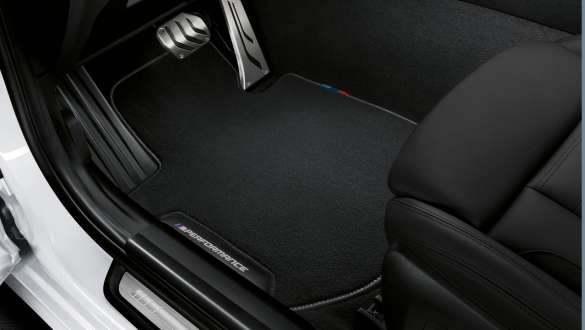 BMW M Performance floor mats.
Premium look, outstanding grip: The M Performance floor mats add an individual athletic touch to the footwell, lending the whole car a more dynamic appearance. With M logo and M Performance lettering. The premium design is rounded out by leather-look surrounds with decorative stitching in contrast colours and a band in the M colours.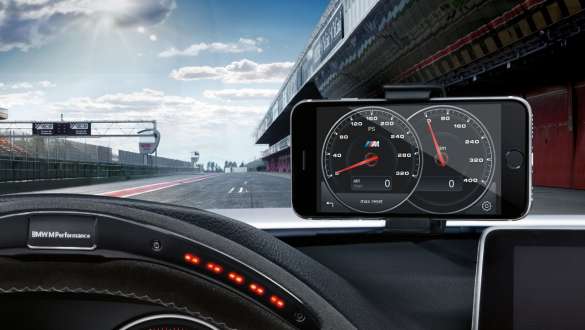 BMW M Performance drive analyser.
This comprises an on-board diagnostics stick and a smartphone app (iOS and Android). A wealth of information, including engine data, maximum values, throttle and brake pedal use, lateral acceleration and much more, can be professionally recorded and analysed.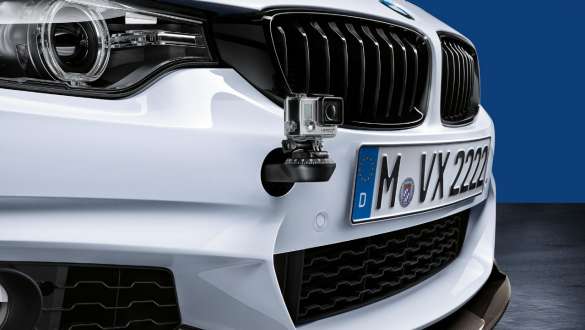 BMW M Performance track fix for action cameras.
A secure and stable base for professional-quality outdoor shooting when you are on the racetrack. The exterior holder attaches to one of the car's tow hook apertures and the camera can be controlled by an app.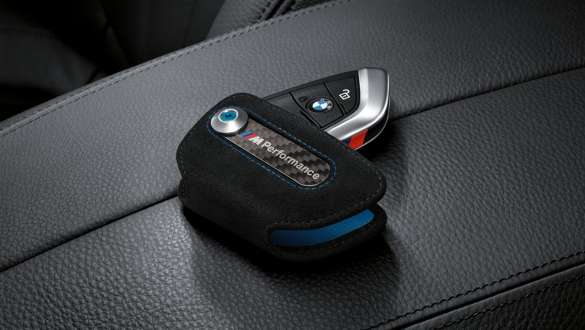 BMW M Performance key case.
In an impressive combination of carbon and Alcantara The key attaches securely to the case by means of a socket head screw in BMW M Blue. Timelessly elegant, technically sophisticated – and a concise motor sport statement.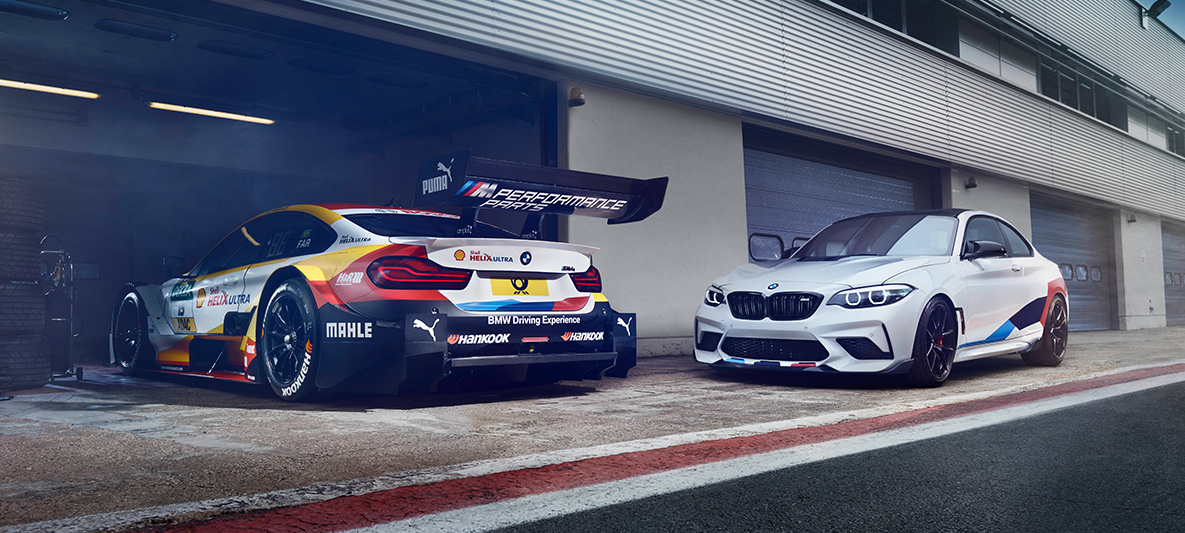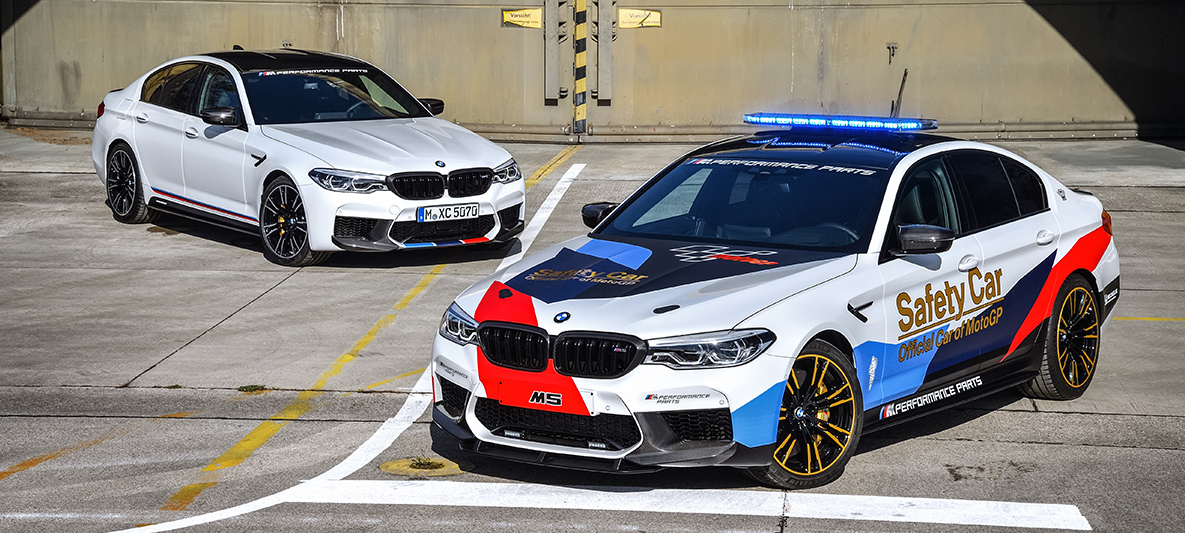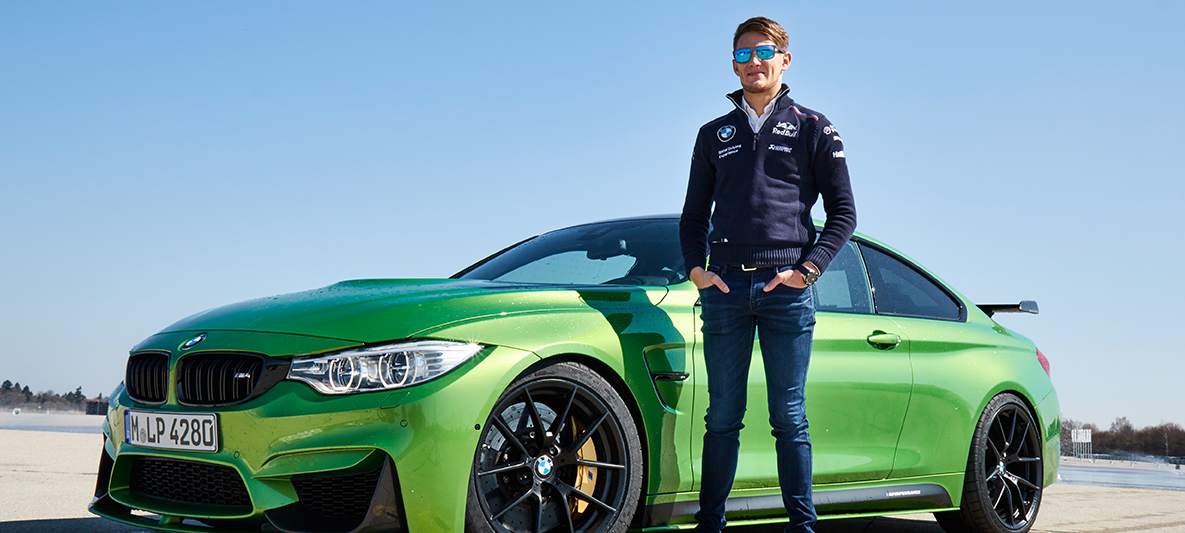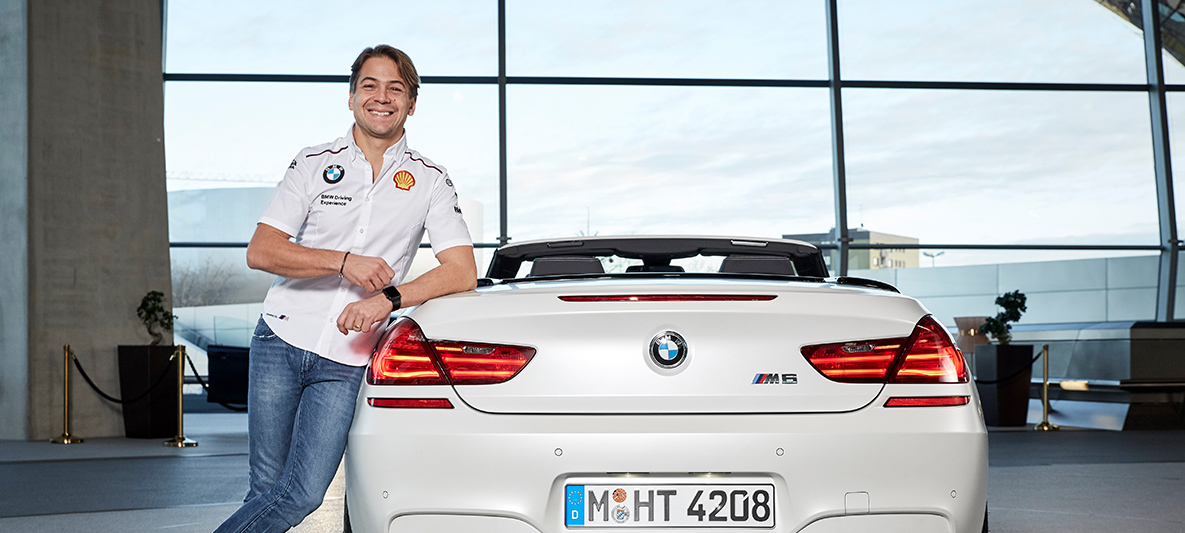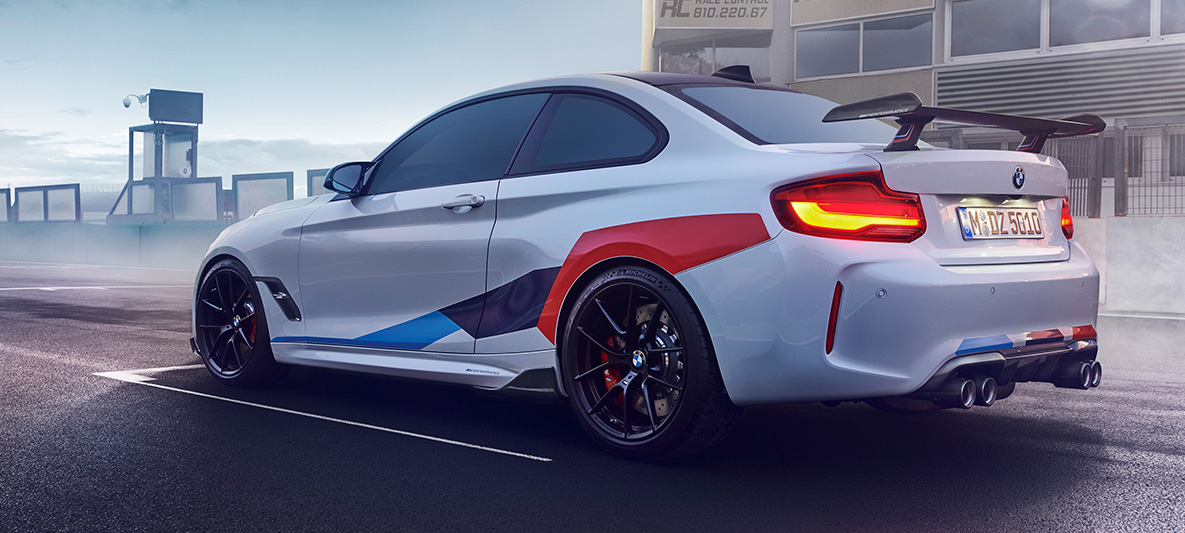 COMMITTED TO MOTORSPORTS.
BMW M Performance Parts is a proud partner of BMW Motorsport. For our customers, dynamic high performance and peerless sporting performance are intrinsic to the BMW brand. Regular participation in motor racing with near-production vehicles is critically important for BMW M Performance Parts. It inspires our development work and provides valuable insights through practical experience.

Since 2012 the MotoGP Safety Car is equipped with BMW M Performance Parts. And our BMW works driver are banking on the quality and performance of our parts.
M PERFORMANCE PARTS VIDEO GALLERY.