LEAD THE WAY. AND LET THE WORLD FOLLOW.
BMW ConnectedDrive Services & Apps in the BMW 3 Series Gran Turismo.
Communication, information and entertainment – experience mobility in a completely new way with the Services & Apps from BMW ConnectedDrive.
Read more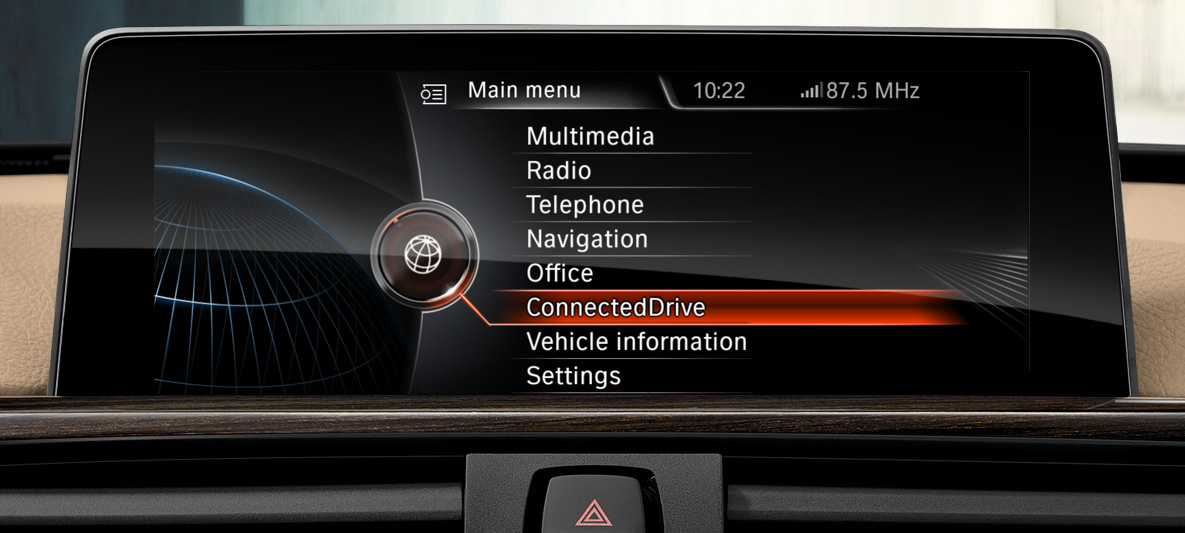 CONNECTED DRIVE SERVICES.
ConnectedDrive Services provides you with a wide range of information, entertainment and service features on the road.
These include BMW Online, which gives you access to current, localised information such as weather, news, online search and also office functions. It is also possible to put together individualised services such as webcams, parking information and travel or hotel guides.
This option also includes secure and unlimited access to smartphone apps such as BMW Connected.
REAL TIME TRAFFIC INFORMATION.
Real Time Traffic Information (RTTI), part of the ConnectedDrive equipment, is your personal traffic scout that provides you with information about what is happening on motorways, express roads and other main roads as well as on many urban streets and also offers efficient alternative routes.
This ensures that you are always up to date with the traffic situation on your planned route and have potential alternative routes at your fingertips. Use of RTTI is designed for a period of three years and can be extended at any time.
Only available in conjunction with the optional equipment ConnectedDrive Services.

CONCIERGE SERVICES.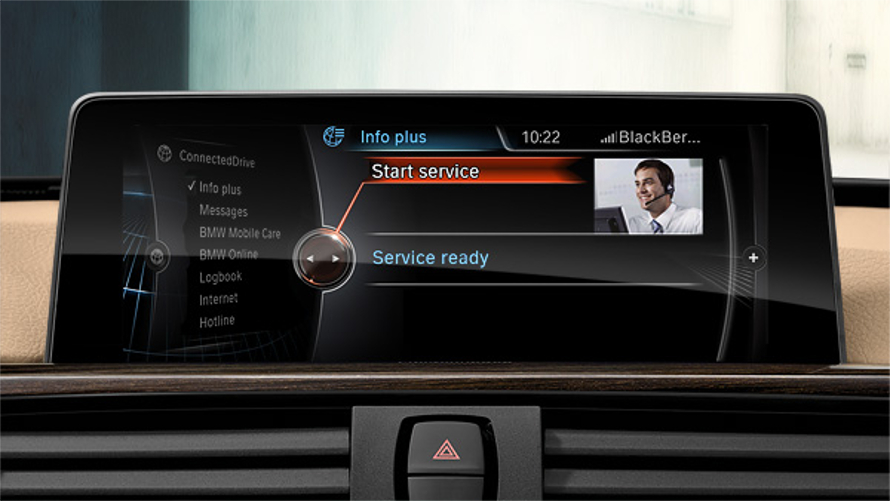 Enjoy a very special kind of service – with the Concierge Services from BMW ConnectedDrive. At the touch of a button you are put through to a BMW Call Centre agent who is available to you as a "personal assistant" while you are on the road.
Whether you are looking for a particular restaurant, the nearest cash dispenser or an emergency pharmacy – the BMW Call Centre agent is there to help and can send address details directly to your navigation system if you wish. The agent can even place a reservation at a restaurant or book a hotel room for you. Concierge Services operate independently of your mobile phone and are available to you at home and abroad. Round the clock, seven days a week at no extra cost. ConnectedDrive Services is required in order to use this function.
BMW APPS.
BMW Apps is part of the ConnectedDrive Services. With your smartphone and the BMW Connected app you can use a wide range of different functions. These include web radio stations, your smartphone calendar, Facebook, Twitter and much more.
Once you have downloaded BMW Connected, simply connect your smartphone to the car via the snap-in adapter or a cable recommended by BMW and start the app. All functions can then be conveniently operated via the iDrive Controller. You can also use the read-aloud function to stay up-to-date with your friends' latest status updates or appointments via the car loudspeakers. The BMW Apps range is continually being developed to provide you with more apps in the future. This option is only available in conjunction with ConnectedDrive Services.

BLUETOOTH OFFICE.
A connection for Bluetooth and USB devices in combination with a navigation system and the intelligent integration of selected business mobiles enables office functions such as emails, appointments, tasks or text messages to appear on the Control Display or be heard via text-to-speech through the audio system's loudspeakers. And with Bluetooth Audio Streaming, music files can be enjoyed cable-free via selected Bluetooth-compatible devices.
You'll find a list of all compatible mobile phones and smartphones at www.bmw.com/bluetooth.
MESSAGE DICTATION.
An office wherever you go: dictate and send email and text messages while on the move. And with the Navigation system Professional, Bluetooth connection and ConnectedDrive services, you no longer need to pick up your mobile phone.
Thanks to the new dictation function in the vehicle and the off-board speech recognition by Nuance®, what you say is converted into a text message that can be sent immediately via email or SMS. You can use the dictation function free of charge in your vehicle for a period of 60 days. Continued use in your vehicle requires a contract with Nuance®. You can find out whether your mobile device is compatible with this function at www.bmw.com/bluetooth. The prerequisites for using this function are listed at www.bmw.com/bluetooth.
INTERNET.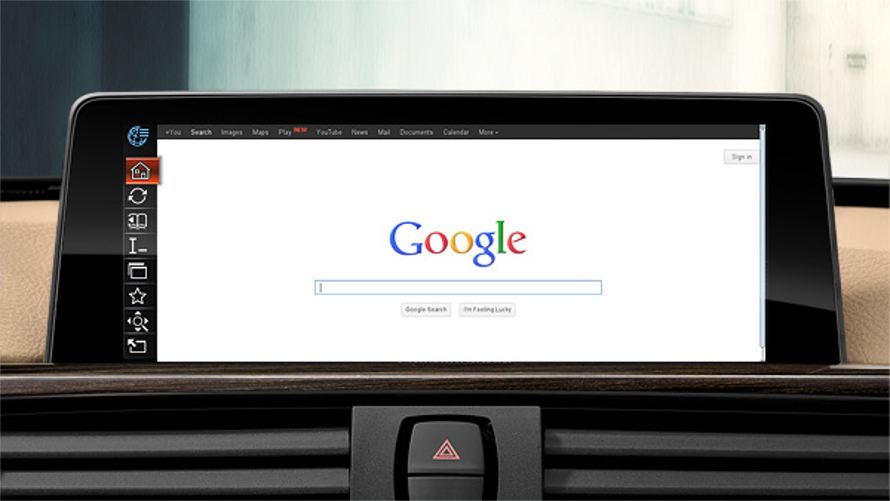 Unrestricted access to the World Wide Web.
The data flatrate for internet use allows you to surf countrywide (no roaming) from the comfort of your BMW.
Any internet page can be called up on the Control Display by entering the URL via the iDrive Controller or opening a customised favourite list. You can surf the internet on the Control Display up to a speed of 7 km/h.
Only available in conjunction with the optional equipment ConnectedDrive Services.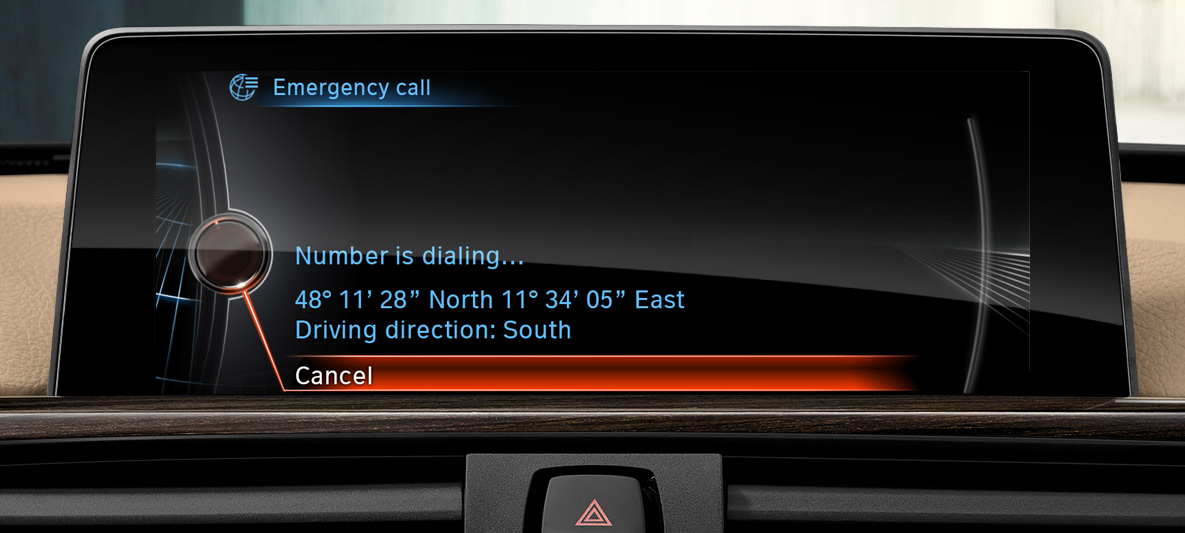 INTELLIGENT EMERGENCY CALL.
In the event of a serious accident, the Intelligent Emergency Call function triggers an automatic emergency call following airbag activation or accident-related activation of the safety belts.
Via a SIM card integrated in the vehicle, rescue-relevant data, such as the exact position of the vehicle or information on the seriousness of the accident or the possible risk of injury to the occupants, is sent to a BMW Call Centre. The BMW Call Centre then informs the rescue point nearest to the scene of the accident and provides the victims with assistance by telephone until the emergency services have arrived. The emergency call can also be activated manually, e.g. in order to assist other road-users in difficulties.